Southeast Queensland to feel the heat this weekend
03/01/2014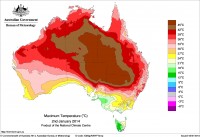 The Bureau of Meteorology is forecasting for heatwave conditions affecting much of inland Queensland to extend into the southeast. Heavily populated areas of southeast Queensland are expected to feel the heat heading into the weekend.
After Birdsville sweltered through temperatures reaching almost 49C yesterday (Thursday), temperatures in inland Queensland are again reaching the mid to high 40s today (Friday) with St George breaking an 89-year record shortly after midday (over 46C). As conditions approach 40C in parts of southeast Queensland today, residents can expect even hotter conditions on Saturday.
"The current forecast for Brisbane is 41C, which comes close to an all-time record of 43.2C," said Bureau of Meteorology Senior Meteorologist, Jonty Hall.
"Further inland at Ipswich the forecast peak of 43C hasn't been reached in 20 years, and is just short of the hottest day of 44.3C recorded in 1994.
"Brisbane's final maximum temperature on Saturday will depend on the timing and penetration of the seabreeze. If it's delayed at all, we could see temperatures climb to record levels.
"Very hot conditions are also expected over inland parts of north-eastern NSW, but temperatures are not expected to reach the same levels as those in Queensland.
"Temperatures in southeast Queensland are expected to be more than 10 degrees above the average, and many residents will not have experienced this type of heat before," Jonty Hall said.
The extreme temperatures come after the Bureau released its Annual Climate Statement today, confirming that Queensland recorded its hottest year on record in 2013.
It is a timely reminder for people to take care during extreme heat. Stay cool, drink plenty of fluids and check on any friends, neighbours or relatives who may be sick or frail.
For full details on how to stay safe in the heat visit go to Queensland Health.