Tropical Cyclone Lam forecast to make landfall overnight
19/02/2015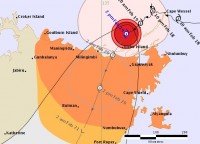 As forecast, Tropical Cyclone Lam has made a southwest turn towards land, and is expected to cross the coast near Elcho Island overnight as a high Category 3, or Category 4 system.
The cyclone has continued to intensify overnight and is now a high-end Category 3 system, producing sustained wind speeds at its centre of up 140km/h, with gusts of up to 195km/h.
Very destructive wind gusts of up to 220km/h are possible near the cyclone's centre as it crosses the coast between Milingimbi and Gapuwiyak overnight Thursday.
The system is expected to weaken during Friday as it moves inland over Arnhem Land.
Heavy rain associated with the system is likely to cause flooding of low-lying areas in the northeast Top End.
A Flood Watch is current for the Arnhem and Carpentaria coastal rivers, with daily rainfall totals of 200-300mm forecast for the Gulf of Carpentaria coastline, and 100-200mm for adjacent inland areas.
Coastal residents between Milingimbi and Nhulunbuy are warned of a very dangerous storm tide as the cyclone centre approaches the coast on Thursday night and into Friday.
Tides will rise significantly above the normal high tide, with damaging waves and very dangerous flooding.
The public are urged to closely monitor the Bureau's website and tune in media and local radio and listen to the advice of emergency services.
The Bureau is now also using Twitter to disseminate significant weather information to the Northern Territory community. Follow @BOM_NT. The Bureau's website remains the most up-to-date and comprehensive official source of information.
For cyclone preparedness and safety advice, visit Northern Territory Police, Fire and Emergency Services website.
For information on interpreting tropical cyclone forecast track map, visit the Bureau's YouTube page.