Bureau monitoring the potential for another East Coast Low to develop
28/04/2015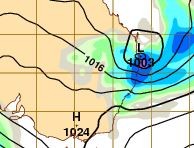 The Bureau of Meteorology is closely monitoring the potential for another East Coast Low to develop off the southeast Queensland and northern New South Wales coasts later this week.
Bureau of Meteorology New South Wales Regional Director, Mr Barry Hanstrum, said while there is still some variation at this stage in the forecast models used by the Bureau, we began briefing emergency services on Monday and will provide progressive updates and forecasts during the week.
"What we do know is that most of the forecasting guidance shows a low pressure system developing off the coast near the Queensland and New South Wales border, with rainfall increasing and peaking between Thursday and Saturday as the system moves south along the coast.
"Early indications suggest the main impacts of intense rainfall and strong winds will be on coastal areas in the northeast New South Wales Northern Rivers and Mid North Coast regions, including Lismore, Coffs Harbour and Port Macquarie," said Mr Hanstrum.
Queensland Regional Director Rob Webb said there is also the chance of some heavy rain for Queensland's southeast corner later in the week.
"The highest falls are likely on the coastal fringe including the Fraser Coast, Sunshine Coast, Brisbane and Gold Coasts, extending inland. We will be keeping a close eye on the weather and providing more detailed forecasts and warnings throughout the week as the system evolves," said Mr Webb.
Mr Hanstrum said the Bureau is acutely aware of clean-up operations currently underway in New South Wales, and mindful of the impact further rain could have in affected areas.
"Further rainfall is possible for catchments that have already experienced flooding during last week's severe weather event, but current guidance indicates the Sydney metropolitan area will be on the fringe of this event. We're alert to the possibility of the system moving further south over the weekend.
"Forecasters will continue to provide regular updates for the community through news media and social media channels, with the most comprehensive and up to date information available on the Bureau's website. The public are urged to listen to the advice of emergency services," said Mr Hanstrum.
The Bureau is now using Twitter to disseminate significant weather information for the community. Follow @BOM_NSW. The Bureau's website www.bom.gov.au remains the most up-to-date and comprehensive official source of information.