Queensland to feel the brunt of East Coast Low today
01/05/2015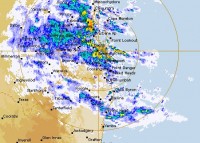 The Bureau of Meteorology says Queensland will feel the full force of the East Coast Low today, with conditions easing overnight (Friday) and into Saturday as the system moves south over the NSW Northern Rivers and Mid North Coasts.
Queensland Regional Director Rob Webb said that rain has been falling across much of the southeast today and is expected to increase as the low moves south.
A Flood Warning has been issued for the Tweed River and rivers along the coast from Maryborough extending into northern New South Wales as far south as Nelson Bay.
Flood Watches have also been issued for some inland rivers near the Queensland and NSW border.
"We are expecting to see significant and widespread rainfall in the range of 50 to 150mm, and localised falls of 200-300mm cannot be ruled out – particularly along the coast," Mr Webb said.
"With such heavy falls there is the potential for flooding, and we may see rapid rises of creeks and rivers," he said.
Coastal gales and locally damaging winds will see large waves and dangerous beach conditions, with sea levels potentially above the highest for the year on the high tide this evening.
The public are urged to stay tuned for more detailed forecasts and warnings and follow the advice of local emergency services as this event unfolds.
Our emergency services are warning the public to avoid any unnecessary travel and be prepared for rapid river and creek rises today and tonight. If you are on the road, do not enter flood waters.
For further information go to the Bureau's website for the latest Warnings.
The Bureau is now using Twitter to disseminate significant weather information for the community. Follow @BOM_QLD.
The Bureau's website www.bom.gov.au remains the most up-to-date and comprehensive official source of information.