Severe Weather Update: Dangerous fire weather conditions for Western Australia
15/11/2016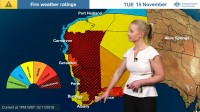 This video is no longer current. To view past videos, please visit the Severe Weather Update video archive on YouTube.
For the latest weather and warnings information visit www.bom.gov.au/australia/warnings, and follow advice from emergency services.
TRANSCRIPT
Hello from the Bureau of Meteorology, with a Severe Weather Update on the dangerous fire weather conditions throughout Western Australia today and tomorrow.
Now a large part of the State is experiencing extreme to catastrophic fire conditions today, and we already have some fire in the landscape: down in the south around Hopetoun. And when you have extreme to catastrophic conditions, going fires are very difficult for the fire agencies to control, so if you're in these areas make sure you're listening in to advice from the emergency services to stay safe during these dangerous conditions.
This is not a normal situation for Western Australia at this time of year. Geraldton yesterday experienced 42°C, and that's its warmest November day in nine years. And today Albany is expected to reach 40°C—if it does so, that's going to set a new maximum temperature record for November for Albany.
Now it's these very dry, hot and gusty northerly winds bringing down this warm air from central Australia that's causing these conditions: Expecting to see wind gusts today up to 70 km/h, and we've already (by midday) seen many areas reaching the mid-to-high 30s and we expect those temperatures to continue to rise into the 40°C mark throughout this afternoon.
And that's ahead of this change, or this trough feature, which will move slowly eastwards this afternoon and overnight tonight, bringing the warmest air towards the east; and this cold front behind will bring a very marked temperature change tomorrow: Albany only expecting to reach 20°C, which is 20°C lower than what it's experiencing today.
But, as we can see, still very hot conditions in the mid-40s throughout the southeast of the State tomorrow, combining with that dry air and those gusty winds means that we will expect to see further extreme to catastrophic fire conditions throughout those regions tomorrow.
So, if you're in any of these regions throughout today and tomorrow, it's very important to be following advice from emergency services to stay safe; and stay up-to-date with all the latest forecast and warning information on the Bureau's website and the BOM Weather app. You can also get updates on TwitteR
END OF TRANSCRIPT