Remember to add the 2017 Australian Weather Calendar to your Christmas list
30/11/2016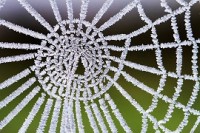 Instead of socks and hankies this Christmas, why not give your friends and family a copy of the Bureau of Meteorology's 2017 Australian Weather Calendar—and share 13 stunning images, including a unique take on a festive snowflake.
The beautiful December image captures the moment soft white ice crystals form on a spider's web in St Marys, Tasmania. This quintessentially Australian snapshot was selected from hundreds of entries to feature in the calendar.
Other spectacular images include the cloud-capped mountains of Lord Howe Island, Antarctic skies shimmering with the aurora australis and a lightning strike near Longreach, Queensland.
Last year, the calendar was delivered to more than 80 countries, making it the perfect gift for those hard-to-buy-for friends and relatives. Orders placed before 15 December should make it to most destinations in time for Christmas.
CEO and Director of Meteorology Dr Andrew Johnson was overwhelmed by the quality of images included in this year's calendar, which is published jointly by the Bureau and the Australian Meteorological and Oceanographic Society.
"The calendar is extremely popular in Australia and overseas for the breathtaking photography, diversity of landscapes and the expert insights into weather phenomena.
"This year's calendar also celebrates the traditional weather, climate and environmental knowledge of Aboriginal and Torres Strait Islander communities. It includes stories about how the Bureau collaborates with communities and how this enriches the services we deliver."
You can order the 2017 Australian Weather Calendar from the Bureau's online shop at shop.bom.gov.au or phone 1300 798 789. The photography competition for the 2018 Australian Weather Calendar is open now—enter at www.bom.gov.au/calendar/contest.