Heatwave conditions for inland Queensland to continue into next week
02/12/2016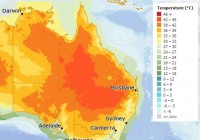 Prolonged heatwave conditions in Queensland are forecast to continue well into next week, with widespread temperatures in the low 40s in inland areas.
Senior meteorologist Michelle Berry said the hottest temperatures would be seen in central and southern inland parts of the state extending into the northern NSW border region.
"A static weather pattern is driving the prolonged heatwave, with peak temperatures concentrated in southern and central inland parts of Queensland. We won't see any real relief from the heat until mid-to-late next week."
"Hot conditions will drive very high fire dangers for many areas of the state," she said, "We're urging the public to follow the advice of local emergency services."
"Closer to the coast, sea breezes are moderating temperatures, with Brisbane likely to remain in the low 30s."
Queensland Health Disaster Management Unit Senior Director, Dr Peter Aitken said the best way to reduce the risk of heat-related illness is to drink plenty of water and keep your body as cool as possible.
More storms are expected today (Friday) and over the weekend in a broad zone from the northwest through central and southern parts of the state, particularly for inland areas.
This includes locations such as Mount Isa, Roma, Toowoomba, Warwick and the Lockyer Valley. Some storms may possibly be severe.
The public are urged to check the Bureau of Meteorology website for the latest forecasts and warnings, and follow us on Twitter @BOM_Qld.
When temperatures are unusually hot over a period of time, with continuously high night-time and day-time temperatures, heat stress becomes a critical factor in human survival and infrastructure resilience. Further information on the Bureau's Heatwave Service for Australia can also be found on our website:
www.bom.gov.au/australia/heatwave
Hot weather can affect anybody, may make existing medical conditions worse and can cause heat-related illness. In some cases heat effects may be fatal. Heatwaves may also affect community infrastructure such as power supply and other support services.
Find out who is at risk and how you can prepare for and cope during a heat event and what to do for heat-related illnesses by checking the Queensland Health website:
www.health.qld.gov.au/disaster/heat
NOTE FOR MEDIA: A severe weather update video about the heatwave is available.