South Doodlakine Doppler radar images now online
17/02/2017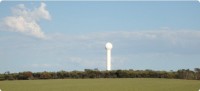 Images from the South Doodlakine Doppler radar are now available on the Bureau of Meteorology's website.
The South Doodlakine radar is the second of three Doppler radars that are part of a $23 million project managed by the Western Australian Government Department of Agriculture and Food, made possible by Royalties for Regions investment.
The images from the South Doodlakine radar will allow farmers to access real time information on rainfall and wind, and help transform the way they do business. Emergency services operating in the area will also benefit from the real time information available from the radar.

The radars are being built and maintained by the Bureau of Meteorology.

Images from the third Doppler radar at the Watheroo site are expected to come online in April, 2017
For more information about the WA Wheatbelt Radars Project go to www.agric.wa.gov.au/r4r/doppler-radar-investment