New report shows residential water use steady in 2015 - 16
16/03/2017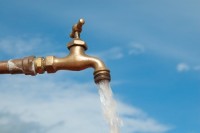 Residential water use in 2015–16 remained relatively consistent compared with previous years, increasing by only 1 per cent to 182 kL per property, according to a report released today.
The eleventh annual urban water utilities national performance report compares the performance of 86 water utilities that provide urban water services across Australia and analyses the trends between years and utilities.
The Bureau's Assistant Director Water Information Services Dr Robert Argent said it was encouraging to see increases in the typical residential water and sewerage bills have slowed in recent years steadying at a 4 per cent increase over the last two reporting years.
"Interestingly, while surface water remains the dominant source of water in Australia, the trend to recycled water supplied by medium to large utilities, including many large regional utilities and councils continues. There was a 7 per cent increase in 2015–16 following 13 per cent growth the year before."
"This increase reflects the reduced availability of surface water and the need to diversify supply sources in the face of growing demand," Dr Argent said.
The national median operating expenditure for water and sewerage has shown a steady increase. In 2015–16, it was $920 per property, up from $896 in 2014–15, representing a three per cent increase.
The total number of complaints for water and sewerage services is relatively low at five complaints per 1,000 properties. This increased from four complaints per 1,000 properties in 2014–15.
Mr Adam Lovell, Executive Director Water Services Association of Australia (WSAA) welcomed the release of the National Performance Report and the continued transparency of the urban water industry.
"This report demonstrates that Australian water utilities are world leaders in public and independent performance reporting," Mr Lovell said.
"While there are always areas that can be improved, it is pleasing to see utilities across the country continue to deliver high quality water to customers, provide diversified supplies through a growth in recycled water provision and retain a focus on improving benefits to customers through greater efficiency in service delivery."
The report is prepared by the Bureau, the Water Services Association of Australia (WSAA) and State and Territory governments. The public, independent report is intended to help consumers and government determine whether the water sector is operating in an efficient and cost effective manner.
It contributes to the Bureau's Water Information Programme, which provides a comprehensive and reliable picture of Australia's water resources to support policy and planning.
For more information: www.bom.gov.au/water/npr
Info graphics can be downloaded here: http://media.bom.gov.au/downloads