Showers and storms ahead for Queensland, heavy rain south of the border
17/03/2017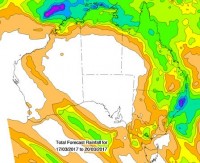 Showers and thunderstorms are forecast to continue for much of Queensland over the weekend, but the heaviest rainfall will be seen further south in New South Wales.
Queensland's coastal strip, northern tropics, central west and southeast are likely to see patchy showers and thunderstorm activity, with the only the far west to likely to remain mostly sunny and warm throughout.
Significant rainfall was recorded in the last 7 days with a peak of 276mm at Noosa Heads on the Sunshine Coast. Several other locations between Rockhampton and the Gold Coast also recorded 7-day rainfall in the range of 100-200mm.
While rainfall totals in the 100-200mm range are not out of the question this weekend, these are likely to be associated with thunderstorms, meaning falls will be isolated, with nearby locations possibly receiving little or no rainfall.
Localised flash flooding is a possibility with falls in this range, and the public is urged to stay tuned for warnings, exercise caution if caught in a heavy downpour and never walk, ride or drive through floodwaters.
Convective weather, which is typical in Queensland, tends to deliver showers and intense bursts of rainfall often associated with thunderstorms, and this weather is forecast to continue for several days.
As always, monitor the Bureau's website for any specific warnings and follow the advice of local emergency services.
The Bureau is also using Twitter to keep the community up to date, follow us @BOM_QLD. (The Bureau's website remains the most up-to-date and comprehensive official source of information.)