Tropical Cyclone Debbie to impact the Queensland Coast tomorrow
27/03/2017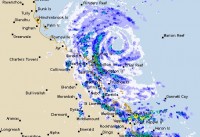 Tropical Cyclone Debbie has intensified to Category 3 strength today and is forecast to further intensify to Category 4 strength as it crosses the Queensland coast tomorrow (Tuesday) between Ayr and Mackay.
Queensland Regional Director Bruce Gunn said as the system approaches the coast the Bureau will step up its tropical cyclone advice and track maps to hourly including the use of the Standard Emergency Warning Signal, effective from 2pm today.
"Storm surge is a risk factor with severe tropical cyclones, and if the cyclone crosses the coast around high tide this will enhance these effects. There may be some coastal inundation between Proserpine and Mackay region today," said Mr Gunn.
Gales are already occurring along the Whitsunday coast and Mackay, and expected between Townsville and St Lawrence this evening. Gales will extend north to Cardwell and inland to Charters Towers, Pentland and Mount Coolon tomorrow (Tuesday).
Cyclone Debbie is likely to maintain cyclone strength for some distance overland, with damaging to destructive winds, delivering significant rainfall as it tracks to the west-southwest.
A Category 4 system is defined as one that has sustained winds in the range of 160-200kmh, with gusts up to 280kmh. Although the strongest winds are near the core, damaging and very destructive winds can extend several hundred kilometres from the cyclone's centre.
A Flood Watch is current for coastal catchments between Rollingstone to Gladstone extending inland to the upper Flinders, upper Thomson and Barcoo. Initial Flood Warnings have been issued for the Don and Pioneers Rivers, further flood warnings are expected. please check the Bureau's website for the latest information www.bom.gov.au/qld/warnings
Widespread daily rainfall totals between 150-250mm are expected with the passage of the cyclone, with isolated falls in excess of 400mm possible along the coastal fringe.
Localised flash flooding is likely, and the public is urged to stay tuned for warnings. Avoid travel when warnings are in effect, exercise caution if caught in a heavy downpour – and never walk, ride or drive through floodwaters.
The Bureau is also warning for abnormally high tides, large waves, storm surge and rough to phenomenal seas.
Queensland Fire and Emergency Services are urging the public to:

Stay tuned for the latest official forecasts and warnings from the Bureau, and follow the advice of local emergency services.
Soon it will be too late to leave your home. Avoid travelling, if possible. Remember – if it's flooded, forget it.
If you have been directed to evacuate, please listen to official information and heed warnings.
If you do relocate, make sure loved ones know where you are going as communications may be limited after the cyclone crosses.
The Bureau's Tropical Cyclone Warning Centre in Brisbane operates 24 hours a day, 7 days a week with forecasters monitoring the situation and providing the latest information for emergency services, media and the community.
Follow us on Twitter @BOM_Qld and remember www.bom.gov.au remains the most up-to-date and comprehensive official source of information.
For further information go to: www.bom.gov.au/cyclone