Weather observer notices a lot of change in 30 years
25/03/2017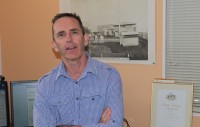 Technological advancements are making weather information more accessible than ever, but as Acting Regional Observation Manager Mark Haye clocks up an impressive 30 years with the Bureau of Meteorology, he notes just how far it has evolved.
"We used to tie an electronic box known as a radiosonde to a weather balloon and send it up into the air to assess temperature, humidity and pressure readings as it rises," Mr Haye said.
"The process is virtually automated now, but back then all the data churned out from a roll of paper that needed to be manually calculated as it was being reported.
"If you were too slow and hadn't kept up, the paper would start to fall onto the floor and you would have to race to fold it over to keep up with the output of data."
Times definitely have changed for the now 58 year-old who began working with the Bureau as a Year 12 leaver in 1986.
From the days when weather balloon data was manually scaled using a pencil and ruler, and charts were manually plotted by observers, the advancement to weather balloons that provide automatic atmospheric measurements up to 35 kilometers above the ground is truly impressive.
"There have been so many improvements in the quality and quantity of data over the past three decades, it's quite amazing to think of how it was," Mr Haye said.
"Just the move from paper to computers has seen us grow our capabilities massively. I was lucky because the Bureau had just started using hand-held calculators when I joined instead of the slide rulers they had previously used.
"Now we have automatic rain gauges and river gauges, automatic weather stations and so many different pieces of observation equipment."
Mr Haye was recently awarded his 30-year long service award as part of the Bureau of Meteorology's World Meteorology Day celebrations on 23 March.
The ceremony noted the long-term commitment of 26 Bureau employees, three from Tasmania.
Along with his two Tasmanian colleagues, Mr Haye said the award was a wonderful acknowledgement of his time with the Bureau, but also served as a great reminder of what he has been able to experience.
"I've been very lucky at the Bureau; I've worked with exceptionally talented people who are constantly showcasing truly impressive abilities in their field," Mr Haye said.
"Given what I've been a part of over the past 30 years, I'm pretty excited to see what else we [Bureau] will do."