Blue skies return for Queensland, flooding to continue for several days
31/03/2017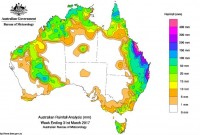 Ex-Tropical Cyclone Debbie moved out to sea overnight, is not expected to redevelop and poses no threat to the mainland.
Queensland Regional Hydrology Manager, Victoria Dodds, said while the heavy rainfall affecting the southeast has eased, flooding is expected to continue for several days as the floodwaters make their way through rivers and streams.
"There has been a significant amount of rainfall in southeast Queensland, with some areas receiving rainfall in a similar range to those last seen with ex-Tropical Cyclone Oswald in 2013," said Ms Dodds.
Key areas of focus are now on the following catchments:
Rockhampton and Capricornia: Connors, Issac, Mackenzie and Fitzroy Rivers
"The main flood peak in the Fitzroy system is in the Mackenzie river at Tartrus, and will make its way downstream over the next week.
"Rockhampton will see rises over the weekend and is expected to reach the moderate flood level (7.5m) mid-week and peak at the major flood level or above (8.5m), later in the week," Ms Dodds said.
Brisbane and Southeast Queensland: Logan and Albert River catchments
"Major flood levels in the Albert have peaked close to record flood levels.
"Levels in the Logan River are generally the highest since 1974, and continue to rise near Logan (at Waterford) until Saturday morning.
"Major flood levels are occurring on the tributaries of the lower Brisbane River including the Bremer, Laidley and Warrill Creek, easing over the weekend.
"Bremer River at Ipswich is nearing its peak this afternoon (Friday), which is at a level below that reached in 2013.
"The Brisbane River at Brisbane City will only reach the minor flood level (1.7m) overnight Friday into Saturday on the high tide," said Ms Dodds.
Stay tuned for the latest official forecasts and warnings from the Bureau, and follow the advice of local emergency services. Remember: if it's flooded, forget it.
An interview with Victoria Dodds and audio file is available for download in our Newsroom.
A FINAL Severe Weather Update provides information on the dangerous weather associated with Ex-Tropical Cyclone Debbie, including the major flooding across Queensland and New South Wales today. Video is current at 3pm AEST, Friday 31 March 2017.
For the latest warning information visit: www.bom.gov.au/qld/warnings