Removal of the 'giant golf balls' at Met Building in Casuarina
12/05/2017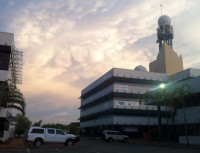 Tomorrow the non-operational white domes on top of the Bureau of Meteorology's Darwin forecasting centre will be removed, changing the Casuarina building skyline.
The domes contained equipment for receiving satellite imagery used before the Bureau partnered with the Japan Meteorology Agency's to use the Himawari-8 satellite in 2015.
Acting Manager of the Darwin Observing Operations Hub Rob Chapman said the removal of the infrastructure is ongoing asset maintenance work.
"There will be no loss of service as a result of this work as newer technology has already replaced the function of the old infrastructure," Mr Chapman said.
"The white domes are quite distinctive and are known locally as the 'golf balls', and some people may notice a change to the skyline once they are removed," he added.
"Before our forecasters had access to the 10 minute high resolution Himarwari-8 satellite images, they had lower resolution images once per hour. The new partnership has meant our forecasters can analyse the weather from satellite images in almost real time which means more accurate forecasts for the community," he said.
Traffic management and other workplace health and safety measures to accommodate the use of large cranes will be in place at the CasCom Centre from 7.30am on Saturday 13 May 2017.
The high resolution Himawari-8 satellite images can be viewed at http://satview.bom.gov.au/