Keep informed and stay safe during long weekend of wet weather in North East NSW
09/06/2017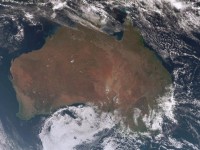 The coastal trough off New South Wales that has had many seeking shelter from the rain this week will continue to create wet weather conditions over the long weekend, with heavy rain forecast for the north east.
NSW Manager Weather Services for the Bureau of Meteorology, Jane Golding, said a Severe Weather Warning had already been issued and it was important for people to monitor forecasts.
"The current warning is for heavy rain and thunderstorms which could lead to flash flooding on the Mid North Coast and far northern parts of the Hunter today, and that will extend up to the Northern Rivers district tonight," Ms Golding said.
"The nature of this weather means it's important for communities to keep up-to-date with rainfall and river height observations.
"A Flood Watch has been issued for the Orara, Bellinger and Kalang rivers and the Nambucca and Hastings valleys.
"The weather scenario for early next week is still unclear but our meteorologists will continue to monitor atmospheric conditions and refine the forecasts as the system evolves," Ms Golding said.
A coastal trough is a low pressure system, within which short-lived, small scale lows can develop and cross back over the NSW coast. The result of this can be damaging wind and heavy rainfall.
NSW State Emergency Service Commissioner Mark Smethurst said it's imperative that people prepare themselves now for the severe weather this long weekend.
"People need to consider their travel plans if they're going to be travelling through areas that may be affected by heavy rain and flash flooding," Commissioner Smethurst said.
"If the roads are closed due to flooding they should delay their travel or find another way to their destination.
"NSW SES volunteers have been called to more than 600 flood rescues already this year and we do not want to see that number rise.
"People who deliberately enter floodwater are not only risking their life but the lives of their passengers and our volunteers who have to perform the rescue.
"If residents need emergency help as a result of this severe weather they should call the NSW SES on 132 500 but if the situation is life-threatening they should dial Triple Zero (000)," Commissioner Smethurst said.
Updated weather information is available at www.bom.gov.au or via the BOM app.
For extra details about local forecasts use the MetEye interactive tool www.bom.gov.au/australia/meteye
Flood and river information is available at www.bom.gov.au/nsw/flood/index.shtml
Audio news release with Rebecca Kamitakahara, Senior Forecaster on the wet weather in NSW can be downloaded here: media.bom.gov.au/downloads