Adelaide's weather observations historical return to West Terrace, or 'ngayirdapira'
14/06/2017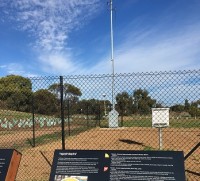 The new Automatic Weather Station in the Park Lands at West Terrace marks Adelaide's weather observations returning to its historical home, enabling the Bureau of Meteorology to recommence climate records dating back more than 160 years.
"Pioneering meteorologist, Sir Charles Todd, started recording weather observations at this site in 1855," said the Bureau's State Manager, John Nairn.
"Globally, records of this length and quality are extremely rare and are significant in underpinning our understanding of Australia's climate, its variability and trends. This will assist in the planning for the community's longer term needs," said Mr Nairn.
Adelaide's new AWS is one of more than 550 across Australia.
"Automatic Weather Stations provide real-time data for forecasting, warning and information services as well as high quality data for the Bureau's climate database," said the Bureau's National Deputy Director, Rob Webb.
"The sensors used on an AWS are the heart and soul of the system measuring air temperature, humidity, wind speed, gusts and direction, air pressure and rainfall," said Mr Webb.
In a first for the Bureau, the Adelaide AWS is the first capital city AWS provided with an Aboriginal co-name. The Kaurna Warra Karrpanthi naming committee has given it the name, 'ngayirdapira' .
"We considered the role of an Automatic Weather Station and decided upon the Kaurna name, 'ngayirdapira' which aptly means, 'concerning the sky'," said Kaurna Elder Uncle Lewis O'Brien.
The event also marks the unveiling of the Kaurna Seasonal Calendar Wheel developed by the Kaurna community.
"We believe in sharing our knowledge and this project has been a real and authentic collaboration between the Kaurna community and the Bureau of Meteorology," said Kaurna Elder Aunty Suzanne Russell.
"It has been a great opportunity to work with the Bureau and have Kaurna weather and cultural information available on the Bureau's website for the public to easily access," said Uncle Lewis.
To view the Kaurna Seasonal Calendar Wheel, visit www.bom.gov.au/iwk.
To view observations from Adelaide's new Automatic Weather Station, visit http://www.bom.gov.au/products/IDS60901/IDS60901.94648.shtml