Severe weather update video and transcript: Fire danger in New South Wales and Queensland
22/09/2017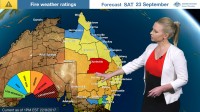 SUBJECTS: Fire danger in NSW and Qld, high temperatures forecast
SENIOR METEOROLOGIST ANDREA PEACE: Hello from the Bureau of Meteorology. Today—Friday 22 September—is forecast to be Australia's warmest September day on record. And with this extreme heat comes the increased risk of bushfire—particularly in New South Wales and Queensland this weekend.
And in fact, severe to possibly extreme fire dangers are forecast over large parts of New South Wales and also the southern interior of Queensland during Saturday. It's likely to continue through Sunday, although conditions will begin to ease in western parts of New South Wales during Sunday.
Now the vegetation in these parts is very dry, with little recent rainfall, and this—coupled with very hot temperatures and gusty winds—is what's leading to these potentially dangerous bushfire conditions.
And the weather is a result of a high pressure system sitting out in the Tasman Sea, and also this trough and cold front which is moving in from the west. We've had a build-up of hot air over central Australia and, ahead of this front, northerly winds are going to drag this warm air towards the east; so today some parts of South Australia, and the eastern States including northern Victoria, may experience temperatures 10–15 °C above average for this time of year.
And ahead of that cold front we will see gusty winds develop on Saturday: We may see wind gusts in excess of 90 km/h, so watch out for severe weather warnings—particularly in the eastern States.
And if this temperature forecast evolves as is currently expected, a significant portion of New South Wales and also parts of the southern interior of Queensland may set new September temperature records on Saturday; and one or two locations in New South Wales may even exceed 40 °C, and this would be the first time that's ever happened in September.
Now the trough and cold front gradually move towards the northeast on Sunday, so we will see some relief for the western parts of New South Wales; however, the cooler air doesn't push far into Queensland or northeast New South Wales, so these conditions are expected to continue and there's little relief into next week.
So please stay safe and look after your loved ones this weekend. Remember to follow to advice from emergency services and stay up to date with forecasts and warnings from the Bureau's website and the BOM Weather app. You can also follow us on Twitter.