Severe weather update video and transcript:Heat and fire danger in Qld and NSW
27/09/2017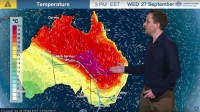 SENIOR METEOROLOGIST ADAM MORGAN: Hello from the Bureau. Exceptional spring heat is continuing across eastern Australia and looks set to break all-time September temperature records for the second time in just a week.
With the heat comes dangerous fire-weather conditions too, moving into populated areas of South East Queensland and northeast New South Wales on Thursday.
Dry and gusty northwesterly winds are moving further south ahead of this low-pressure trough over central Australia: That hot air mass is pushing south into New South Wales—not as far as it did last Saturday—but we'll still see temperatures across northern New South Wales and southern interior Queensland up to 10–15°C above average for September.
The 43°C forecast at Birdsville today will challenge the all-time Australian maximum temperature record for September, which stands at 43.1°C—set at West Roebuck in Western Australia in 2003.
41°C forecast at Bourke and Brewarrina in New South Wales will also challenge the new State September records set just last weekend.
With hot, dry and gusty conditions comes severe fire danger—and fire weather warnings are current for the Channel Country and Maranoa and Warrego districts in Queensland today, and also the Far Western fire area in New South Wales.
On Thursday, severe fire danger moves into southeast Queensland and northeast New South Wales as the low pressure trough and hot air mass move further east. The fire risk is significant, and fire weather warnings for tomorrow will be issued later today.
Although cloudy and mild today on Wednesday, heat will build early in the day on Thursday with these northwesterly winds pushing further east. Places near the coast, up through South East Queensland and northeast New South Wales, may reach or challenge September temperature records on Thursday. Brisbane: Bureau forecasters are forecasting 36°C as the maximum Thursday—that's just a couple of degrees short of the September record of 38.3°C. In Ipswich we're looking for 39°C—it's record at Amberley weather station is 39.2°C for September.
Now we're expecting these northwesterly winds to hold back this northeasterly sea pretty well for most of the day, but it will be a bit of a battle. And, in fact, if the sea breeze arrives just a little earlier than expected during the day on Thursday then those maximums—particularly around the Brisbane metro area—may just stay a couple of degrees lower than currently forecast. This could be particularly the case in the city and the western suburbs.
Now broad relief from the heat will arrive across South East Queensland and northeast New South Wales by Sunday, with maximums dropping back into the mid- to high 20s for early next week.
So check back with the Bureau on our website, app and on Twitter throughout this period of exceptional heat and severe fire danger, for the latest updates of forecasts and weather warnings. Stay safe and please follow all advice from emergency services.