Heavy rainfall easing, flood warnings to remain in place
18/10/2017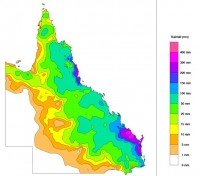 Severe weather warnings for the coastal trough which has delivered significant rainfall for Queensland over the past few days have now been cancelled.
A large section of the coast north of Brisbane, stretching from the Sunshine Coast to Gympie, Bundaberg, Gladstone, Rockhampton, Mackay and Proserpine, were all covered by severe weather warnings for heavy rainfall with the potential for flash flooding.
A number of rainfall observations sites recorded rainfall in the 300-500mm range between Monday and Wednesday with Miriam Vale and nearby Westwood Range exceeding the 500mm over the course of this event.
A Major Flood Warning remains in place for the Kolan River and Baffle Creek, which is located south of Seventeen Seventy and Agnes Water where the heaviest falls were recorded. A major flood peak is expected for Baffle Creek and the Kolan River overnight.
Queensland Fire and Emergency Services is urging the public to stay tuned for the latest official forecasts and warnings from the Bureau of Meteorology, and follow the advice of local emergency services. Avoid travel if possible while warnings are in place and remember: if it's flooded, forget it.
Follow us on Twitter @BOM_Qld
The Bureau's website remains the most up-to-date and comprehensive official source of information.
See the latest Warnings.