SEVERE WEATHER UPDATE:Tropical cyclone Joyce
11/01/2018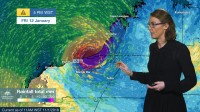 METEOROLOGIST SARAH FITTON: Hello from the Bureau. Today we have named tropical cyclone Joyce, which is now located 140 km north-northwest of Broome. In the last 24 hours, thunderstorm activity around the low was mostly offshore and through the northwestern parts of the Kimberley coast; and we saw this thunderstorm activity consolidate into curved bands around the low, which is a good indication of a strengthening system.
We currently have a Tropical Cyclone Warning for coastal areas between Cape Leveque and De Grey—and this includes Broome, where gusts up to 100 km/h could develop within the next 24 hours. Areas of the western Kimberley and the Pilbara could be affected by damaging winds even before the system crosses the coast. And a Cyclone Watch covers areas between De Grey and Dampier—and that includes Karratha and Port Hedland.
As the cyclone continues to draw in energy from the warm tropical waters, it may reach Category 2 intensity later today or during Friday. And it should have enough time over warm waters to reach severe tropical cyclone intensity during Friday, with wind gusts in excess of 165 km/h.
There is still some inconsistency in the computer modelling of the cyclone's movement, and the broad shaded area with the black outline indicates the possible range of tropical cyclone tracks. There is a small possibility that the system may instead track further west, parallel to the Pilbara coast, so residents in the western and central Pilbara should also stay up to date.
Heavy rainfall is expected over the Kimberley and the eastern Pilbara today. Widespread daily rainfall totals of 50–150 mm are expected, with some higher totals of 150–300 mm of isolated heavier rainfall in the vicinity of the cyclone. And that heavy rainfall will extend further inland on Friday and during Saturday as the cyclone moves inland.
Flood Watches have been issued for a number of catchments in the Kimberley and the Pilbara regions, where heavy rain may lead to flooding over the coming days.
So if you are in the northwest of WA, keep checking for the latest forecasts and warnings on our website and BOM Weather app, and you can also get updates directly from Bureau forecasters via Twitter.
And of course, follow all advice from the Western Australia Department of Fire and Emergency Services.