SEVERE WEATHER UPDATE: Fire danger and hot weather in SA and southeastern States
18/01/2018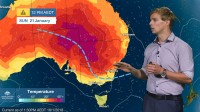 METEOROLOGIST MICK LOGAN: Hello from the Bureau of Meteorology.

Hot weather has set in for South Australia and the southeastern States for the rest of the week, and those hot conditions will continue in New South Wales over the weekend. Most places will experience at least two days of high temperatures, with parts of New South Wales set for a longer run of heat.

'Severe' heatwave conditions will initially occur in the south, before stalling across New South Wales and northern parts of Victoria across the weekend.

The northerly winds will mean temperatures across South Australia, Victoria and New South Wales will be in the low 40s for today and Friday, with some inland locations reaching up into the mid-40s. Parts of eastern Tasmania will peak in the mid-30s.

During Friday, a weak front moves through, providing some relief for Tasmania, southern parts of Victoria, and South Australia; however, unfortunately, this front is not strong enough to sweep further north up into New South Wales.

The timing of the winds to shift cooler southerly is in the late afternoon or evening period for Adelaide, and during the afternoon for Melbourne, with temperatures gradually cooling behind the change.

Despite this front being quite weak, with no really windy conditions, the intense heat will still lead to Fire Weather Warnings for parts of South Australia, Tasmania and Victoria today, extending into New South Wales on Friday.

Across the weekend and into next week, the very hot conditions are expected to continue for New South Wales, with only coastal parts receiving some relief from sea breezes. Just inland from the coast, temperatures will rise up into the low 40s—including the western suburbs of Sydney, where a run of four consecutive days above 40 will start from tomorrow.

So as the heat takes hold, please follow advice from emergency services and State health departments. Stay up-to-date with the latest forecasts and warnings on the Bureau's website, the BOM Weather app and you can also follow us on Twitter.