SEVERE WEATHER UPDATE: Hot weather and fire danger in SA and southeastern States
19/01/2018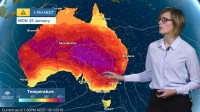 METEOROLOGIST GRACE LEGGE: Hello from the Bureau of Meteorology. Hot conditions remain over southeast Australia today, with the heat extending into New South Wales over the weekend. 'Severe' heatwave conditions continue over northern Victoria, New South Wales and extending into South Australia and WA. The heat then stalls over New South Wales and central Australia, with the hotter conditions remaining, due to no systems moving in to displace this hot air.
There is a cool change currently moving through Tasmania and southern parts of Victoria and South Australia, which will bring some relief from this heat and slowly drop the temperatures behind it. Unfortunately, this change is expected to stall over central parts of Victoria and will not be bringing any relief into New South Wales or northern parts of Victoria and South Australia.
The focus of this heat will shift further north tomorrow and will continue through the weekend, with large areas of New South Wales expected to experience low- to mid-40s °C. Coastal regions of New South Wales will see some relief, with sea breezes expected to keep those temperatures down; but just inland from the coast, we could see temperatures climb to the low 40s—including the western suburbs of Sydney, where over the next four days, we're expecting to see temperatures above 40°C.
This intense heat and dry conditions has led to Fire Weather Warnings for parts of South Australia, Victoria, New South Wales and Tasmania today, with warnings likely to remain for northern parts of Victoria and New South Wales tomorrow.