SEVERE WEATHER UPDATE: Hot weather and potential fire danger in southeast Australia
24/01/2018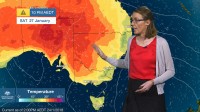 METEOROLOGIST SARAH FITTON: Hello from the Bureau. Temperatures are increasing across the south-east this week, culminating in oppressively humid conditions for the Australia Day long weekend.
Hot days accompanied by warm nights will lead to severe heatwave conditions developing over the southeast. And these will extend to coastal regions during the long weekend and parts of Tasmania could even reach extreme levels.
Temperatures across the southeast will begin to rise on Thursday and Friday, with the hottest conditions through South Australia and northern Victoria.
Adelaide is tipped to reach 38 degrees on Australia Day. The good news for residents of coastal Victoria is that cooler southerly winds will keep the temperature down; Melbourne should reach around 30 degrees on the public holiday, but that exact temperature will depend on the direction and timing of these winds.
The hottest conditions across the southeast will occur on Saturday and Sunday, as this heat moves further south. Temperatures will be 14 to 18 degrees above average and central parts of Tasmania could even see temperatures in the mid to high 30s. Adelaide is forecast to hit 42 degrees on both Saturday and Sunday. Melbourne will have its hottest day on Sunday as it approaches 40 degrees and Hobart should reach the low 30s. And the minimum temperatures will also be up across the weekend, bringing little overnight relief.
And on top of this heat, tropical moisture feeding down from Queensland will increase humidity during the weekend, particularly through Victoria and Tasmania. This is an unusual situation; dry conditions are much more common for southern Australia during heatwaves. And as this humidity rises, it will feel muggy and uncomfortable and increase the likelihood of heat stress; evaporative air conditioners could struggle in such humid conditions.
Finally, the hot conditions may lead to fire weather warnings over the long weekend, and thunderstorms are also likely, so keep an eye out for warnings.
Check the latest temperature forecasts on our App and get updates directly from forecasters via Twitter. Our heatwave forecasts have links to tips from your health department on how to beat the heat. And if you cool off near the water please play it safe; check our coastal waters forecasts and follow advice from Life Saving agencies.