Australia Day weather around the nation
25/01/2018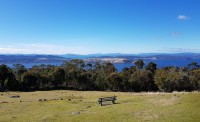 Warm and humid conditions are building in the south east of the country this week and are expected to linger for much of the Australia Day long weekend.
James Taylor from the Bureau of Meteorology's National Operations Centre said hot conditions will peak in Australia's south late Sunday, before a cool change brings some relief early next week.
"Generally, we're looking at pretty warm conditions right around the country this Australia Day long weekend, but the focus of the heat will be in the southeastern states," he said.
"Adelaide will be the warmest of the capital cities, with a top of 38 on Australia day and temperatures forecast to reach a very hot 42 degrees on Saturday and Sunday. But compared to other parts of the southeast, like Melbourne and Hobart, the heat in Adelaide will feel quite dry.
"The Melbourne temperature on Australia Day will be dependent on the arrival time of an afternoon sea breeze, around 30 degrees expected for Melbourne but more like low 30s in the outer suburbs. By Sunday Melbourne temps will be approaching 40 degrees, and the humidity is likely to make it feel more uncomfortable than usual.
"In Hobart we're expecting a partly cloudy day on Friday with a maximum temperature of 27. Heat and humidity will be building through the weekend reaching the mid-30s by Sunday.
"Along the eastern parts of the country, things are looking slightly unsettled on Friday and into the weekend. If you're planning any outdoor activity on Friday, there is a slight chance of an afternoon shower around the Sydney and Brisbane regions, while in Canberra there's a high chance of showers and the risk of storms.
"In terms of temperatures, Canberra can expect a top of around 34 on Friday with similar temperatures forecast for Saturday and Sunday, while Sydney-siders will see a slightly cooler 29 degrees however Sydney's western suburbs will likely reach the mid-30s across the weekend.
"In Brisbane, we're expecting a maximum temperature of 31 degrees throughout the weekend.
"Up north the monsoon has kicked in and there's a reasonable chance of some very heavy rainfall totals in Darwin over the weekend – between 35 to 80mm – and a top of 29 is currently forecast for the public holiday.
"Perth is certainly looking like the pick of the bunch, with sunny conditions, an afternoon sea breeze and a top of 30 expected Friday," he added.
Keep an eye out for all the latest forecasts and warnings at http://www.bom.gov.au/, via the BOM Weather app, and by following the Bureau on Twitter at @BOM_au.