SEVERE WEATHER UPDATE: Heatwave in Queensland, 9 February 2018
09/02/2018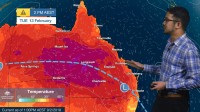 METEOROLOGIST JONATHAN HOW: Hello from the Bureau, with an update on the prolonged heatwave expected across much of Queensland this weekend and into next week.
From Saturday, severe heatwave conditions will develop over southern Queensland as a hot and stagnant air mass settles over the State. By Sunday we'll see 'Extreme' heatwave conditions developing over central parts of Queensland, and into Monday moving over northern parts of the State. And we could even see record-breaking daytime and night-time temperatures throughout next week.
Maximum temperatures will be in the high 30s to low 40s through southwestern Queensland on Saturday; however, into Sunday we will start to see this heat shift towards major population centres—including Brisbane. By Monday, a large part of the State will see maximum temperatures in the 40s and these hot conditions will persist right through next week. Humid winds from the Coral Sea will make conditions even more uncomfortable across the east coast, particularly from Tuesday. And unfortunately, there will be little relief overnight with minimum temperatures remaining well above average.
And with all this hot weather, there may be elevated fire dangers, so it's important to stay up to date with the latest forecasts and any possible warnings.
Looking at some of the forecasts now, and for Brisbane we'll see temperatures in the mid-30s; however, they could get up to even 40°C in the western suburbs. Up closer to places like Rockhampton, we'll see temperatures in the high 30s; however, the heat will most intense over inland parts of Queensland, where towns such as Emerald and Longreach could even get up into the mid-40s.
The heat should ease on Friday next week over eastern districts, as a ridge to the south pushes in cooler air; however, inland parts of the State will have to wait at least until the following weekend.
So with all the upcoming hot weather, it's important to stay cool and hydrated, and look out for friends, neighbours and pets. Always listen to the advice from your local emergency services and you can keep up to date with the latest forecasts from the Bureau website or the BOM Weather app.