Following dreams this International Day of Women and Girls in Science
12/02/2018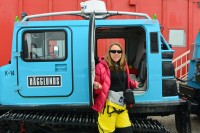 As the world celebrates International Day of Women and Girls in Science on Sunday, 11 February Senior Antarctic Meteorologist, Michelle Hollister, urges more women and girls to follow their dreams in science.
"My interest in science was evident from an early age when I was obsessed with the water tank at Kindy, I would have spent all day playing with different volume vessels and comparing them if allowed," Ms Hollister said.
"Throughout childhood I was pretty fascinated with everything around me, I wanted to know why."
She focused this childhood need to discover the 'why' into Oceanography studies at university, an interest she uncovered thanks to a Scientists in Schools project in Year 12, until a casual conversation with a university friend redirected her attention to meteorology.
"I wasn't keen on doing a doctorate and a friend reminded me that meteorology is just oceanography in the air," she said.
"I kind of fell into meteorology but have absolutely loved the job; that's one of the best things about science, it's a way of thinking and when you learn that, you can apply it in all sorts of places."
Since joining the Bureau of Meteorology in 2002 she has worked in aviation services in Queensland and Melbourne and undertaken two summer positions as a forecaster in Antarctica before accepting her current role as Senior Antarctic Meteorologist in Hobart.
It is the diversity of her role as a meteorologist that has Ms Hollister well and truly hooked.
"The weather and daily operations are rarely the same," she said.
"For one shift this week, I started work very early to prepare forecasts for an aircraft to fly from Hobart to Wilkins Runway, near Casey Station Antarctica; I briefed the pilots and issued a bunch of products.
"I handed over to a colleague based at Casey and changed my focus to the SOCRATES project currently running out of Hobart, which looks at cloud masses where there might be super-cooled liquid water droplets in the clouds.
"Then I moved my focus all the way to the far side of the Australian Antarctic Territory to write a forecast for Mawson Station, and another for the Aurora Australis which is currently attempting to resupply Mawson Station."
So with meteorology once a heavily male-dominated field, does Ms Hollister see a change for the next generation of women and girls?
"There's a much better balance now than when I started, and more acceptance; there's less time wasted saying 'yes, I really am the forecaster'," she said.
"You need to get out and get exposed to as many different types of science as you can – take opportunities with programs like Scientists in Schools and just keep wondering 'why'."