SEVERE WEATHER UPDATE: Heatwave in Queensland, 12 February 2018
12/02/2018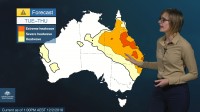 METEOROLOGIST GRACE LEGGE: Hello from the Bureau, here with an update on the prolonged heatwave currently over much of Queensland and expected to continue throughout the week.
Currently a 'severe' to 'extreme' heatwave covers much of Queensland and into parts of the Northern Territory and New South Wales. These conditions are due to a static weather pattern, which is allowing hot air to remain throughout the week. Some areas may see daytime temperatures close to 10 °C above average for this time of year, and it will continue until Friday.
Central regions of Queensland may see temperatures in the low to mid-40s for the next few days, while coastal areas are expecting sea breezes to keep the temperatures down at mid- to high 30s.
Not much relief is seen overnight either, with some areas of central Queensland only getting down to 30 °C before heating up again during the day.
From Thursday, this heat does move slightly further north—with no cool air coming up behind it until Friday, when a ridge does build in the south and pushes up some cooler air. This air will continue to push through the State and bring some relief from the heat, though temperatures do remain above average.
To add to the heat, we're also seeing an increase in humidity across the eastern districts, which will exacerbate the already uncomfortable conditions. Sea breezes along the coast will keep the temperatures down, but unfortunately brings up the humidity.
Severe thunderstorms are also forecast for Monday afternoon and evening, so keep an eye out for warnings and listen to the advice of your emergency services and State health departments.
Stay up to date with the latest forecasts and warnings through our website, the BOM Weather app and you can follow us on Twitter.