SEVERE WEATHER UPDATE: Final update on the prolonged heatwave in Queensland
15/02/2018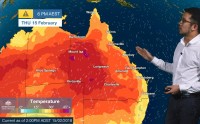 METEOROLOGIST JONATHAN HOW: Hello from the Bureau, with an update on the prolonged heatwave over Queensland.
Over the past week, we've seen multiple heat records being broken across the state, including the warmest February day at places like Emerald and Barcaldine, towards the warmest February night for places such as Winton and Boulia. Overall, Queensland recorded its hottest February day on record on Monday, with the average statewide maximum temperature hitting 40.5 degrees. Tuesdays maximum was 40.1C, making it the first time in February that Queensland has recorded consecutive days of a state-wide average maximum of above 40 degrees.
Severe heatwave conditions will continue to affect central and northern parts of the state today and into the weekend, however the good news is that temperatures will begin to gradually fall over the coming days, and relief is in sight.
On Thursday, most of Queensland will see maximum temperatures in the mid 30s to low 40s, and it will be very humid over the east coast conditions, including Brisbane and the Gold Coast.
On Friday, a weak ridge of high pressure will build to the southeast over the Tasman Sea, bringing cooler and drier winds. However, the decrease temperatures will be gradual to start with and temperatures will remain above average through the weekend, but by Tuesday we will see maximums drop back into the high 20s to low 30s across the south-east and Wednesday will be much more pleasant across central and eastern parts of the state, but still very hot inland.
So with all the hot and humid weather around continuing over large parts of Queensland, remember to stay hydrated and out of the sun wherever possible and look out for friends, neighbours and pets. Stay up the date with the latest forecasts on the bureau website or the BOM Weather App.