SEVERE WEATHER UPDATE: Tropical Low affecting northern parts of WA
17/02/2018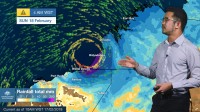 METEOROLOGIST JONATHAN HOW: Hello from the Bureau, with an update on the Tropical Low that's currently affecting northern parts of Western Australia.
During the last 24 hours, the low has moved offshore of the Dampier Peninsula, but remained close to the coast, meaning that it hasn't intensified as initially expected. However, strong winds and heavy rain have hit communities in the western Kimberley and eastern Pilbara, particularly Broome, where we are seeing gusts of 100km/h and its wettest February day on record, with 370mm in the last 24 hours. Broome is now very close to experiencing its wettest year on record.
As at 9am on Saturday, a Tropical Cyclone Warning extends from Beagle Bay to De Grey and inland to Marble Bar. This means that gale-force winds with gusts up to 100km/h may develop within the next 24 hours.
A Tropical Cyclone Watch extends inland to communities such as Telfer and Nullagine. These areas may experience gale force winds within the next 24 to 48 hours.
Further rainfall totals of 100-200mm and isolated falls to 300mm are forecast over the next 24 hrs, and as a result flood warnings and watches are in place through the Kimberley and Pilbara
On Saturday, the Tropical Low is expected to continue intensifying and may reach Category One Tropical Cyclone strength during the day. If this happens, the system will named Tropical Cyclone Kelvin.
However, as the system is staying close to land, it's no longer expected to reach Severe Category 3 strength. Instead, if it does become a Tropical Cyclone it's likely to remain as a Category 1, possibly Category 2 as it nears the coast, which would mean destructive gusts of up to 150km/h.
Landfall is likely on Sunday morning somewhere between Bidyadanga and Pardoo. However, even as the system weakens over land, heavy rainfall and strong winds will affect the region into next week.
So if you're in northern WA, it's time to once again get your cyclone plan ready. Listen to the advice from the Department of Fire and Emergency Services and the Department of Main Roads for possible road closures.
Be sure to check the latest warnings and forecasts on the Bureau website or the BOM Weather app.