AUDIO NEWS RELEASE: Gusty change and significant temperature drop forecast for Melbourne
22/02/2018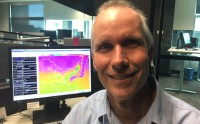 Senior Meteorologist Dean Stewart covers the main weather points facing Victoria at 2:30 pm 22/02/2018.
Potential for light rain tonight in the Melbourne area/may produce slippery conditions on roads
Gusty change on Saturday, with potentially damaging winds across some areas – Severe Weather Warnings and Strong Wind Warnings likely to be issued
Significant drop in temperature following the change on Saturday
The latest weather and warnings are available on the Bureau of Meteorology's website.
Audio is available for download.