Heavy rainfall and flooding to continue for the northern tropics
07/03/2018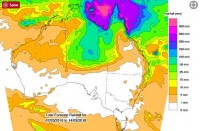 The northern monsoon is entering a more active phase in the wake of significant rainfall and flooding in Townsville and inland areas associated with a tropical low.
Queensland State Manager Bruce Gunn said while the rain was easing in the northwest, many catchments remain wet and vulnerable to further heavy rainfall, particularly in the far north.
"We are seeing widespread flooding in a number of large inland rivers, and these are expected to remain in flood warnings for days and even weeks as flood waters move through these systems," he said.
"There has already been significant disruption to transport and isolation of communities caused by flooding and we are urging the public to check for road closures and current warnings, and avoid travel if possible when warnings are in place.
"The focus for the heaviest falls has now shifted back to the coast where a flood watch was issued yesterday for coastal catchments from Ingham to Cairns, and extending as far north as Cooktown."
New flood warnings were issued this morning for the Tully, Murray and Upper Herbert Rivers following heavy rainfall overnight with a peak of 313mm recorded at Davidson Creek near Tully.
Further widespread falls are expected in the 100 to 200mm range, with isolated heavier falls possible.
There has been a lot of interest in the potential for cyclone development with Tropical Cyclone Hola forming overnight near Vanuatu. This cyclone poses no threat to the Queensland coast.
The Bureau is closely monitoring activity in the Gulf, where there is an increased chance of a tropical cyclone developing over the weekend. The 3-day cyclone outlook is updated daily during cyclone season and more frequently if the chance of a cyclone increases.
A video on the weather event can also be found here.
Download the BOM mobile app for current weather and warnings and follow us on Twitter @BOM_Qld
The Bureau's website remains the most comprehensive source of weather information, see Warnings for further information and updates.