Heavy rainfall easing in Queensland's far north, major flooding on the coast and Gulf
09/03/2018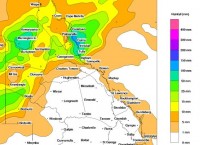 As predicted earlier in the week, there have been widespread heavy falls around the Cairns coast over the past two days with major flooding of the Herbert River.
Queensland State Manager Bruce Gunn said while the heavy rainfall around Ingham, Tully, Innisfail and Cairns was easing, the main focus remains on the Herbert River where the flood peak at Ingham is expected to be around 2009 levels this afternoon.
"A number of stations have recorded more than 200mm overnight with the highest recorded rainfall 409mm at Kirrama Range between Ingham and Tully.
With several Rivers and Creeks at the major flood level around the coast, and also in the Gulf, significant disruption to transport and isolation of communities can be expected for some days, and even weeks in the Gulf," he said.
The Tully and Murray Rivers are expected to peak around the major flood level today. In the Gulf, major levels are expected to continue in the Lower Flinders River well into next week.
"We are urging the public to follow the advice of local emergency services and check for road closures and avoid travel if possible when warnings are in place."
Queensland Fire and Emergency Services Commissioner Katarina Carroll said residents in flood affected areas should continue to adhere to the If It's Flooded Forget It message.
"Residents in the Ingham and Halifax areas are in the grips of a serious flooding situation and now is not the time to be travelling through these areas," she said.
"Many homes are inundated with water and those needing SES assistance are urged to call 132 500. If residents find themselves inundated quickly or unexpectedly, it's very important they call Triple Zero (000) immediately rather than risk their lives trying to navigate floodwaters alone."
As the rainfall eases on Queensland's east coast, further heavy rainfall is expected in the Gulf.
The northern monsoon is in a more active phase, and the Bureau is closely monitoring tropical lows in the northern region (Gulf of Carpentaria), and also in the eastern region (Coral Sea) for potential cyclone development.
At this stage both 3-day cyclone outlooks indicate a low to very low chance in the Gulf and very low chance in the Coral Sea.
Download the BOM mobile app for current weather and warnings and follow us on Twitter @BOM_Qld.
The Bureau's website remains the most comprehensive source of weather information.