WEATHER UPDATE: Ex-tropical cyclone Linda and potential impacts for southeast QLD
14/03/2018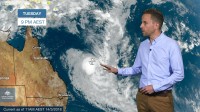 SENIOR METEOROLOGIST, ADAM MORGAN: Hello from the Bureau with an update on ex-tropical cyclone Linda in the Coral Sea, and potential impacts for southeast Queensland.
Around this time yesterday, indications were that the tropical low was unlikely to reach cyclone strength. But this one was always going to be touch and go, and in fact the tropical low did briefly reach category 1 cyclone intensity over the Coral Sea for a period from late yesterday through early this morning, when it was named Linda.
It was quite a long way south over the Coral Sea to form into a tropical cyclone, but it is something we see from time to time, and that wasn't too unusual.
Now ex-tropical cyclone Linda, it's since transitioned back into a tropical low, and as it moves towards the Queensland coast it's likely to run into the upper jet stream.
The upper jet stream is a region of very fast winds in the upper atmosphere that will do two things.
First, the speed of the jet stream winds will effectively slice the top off this tropical low, meaning it's very unlikely to regain cyclone structure. And secondly, the direction of the jet stream winds will direct the low towards the southeast away from the Queensland coast and into the Tasman Sea.
It's important to point out this isn't an East Coast Low, which is a different type of weather system. But people along the east coast will still feel the effects of ex-tropical cyclone Linda, with strong to gale force winds possible along areas of the coastal stretch south from the Capricornia during Wednesday and Thursday.
Large waves and dangerous surf conditions are developing along the east coast of Fraser Island and the Sunshine Coast, and will extend down towards the Gold Coast later on Wednesday as well.
Thursday morning's high tide may be higher than the highest tide of the year, and we could see some inundation of low-lying areas. And those hazardous surf conditions will also extend down as far as the Coffs Coast in New South Wales during Thursday.
Then as the low curves away into the Tasman Sea it will likely pass to the east of Lord Howe Island early on Friday morning, but it still may bring heavy rain, gale force winds and large seas to Lord Howe.
As always, weather warnings are updated regularly, so make sure you have the latest by going to the Bureau's website or app. And follow us on Twitter for updates direct from Bureau's forecasters.