Flood Watch issued for Queensland's far north coast
15/03/2018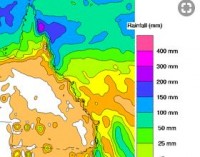 Further rainfall is forecast for Queensland's far north coast from Sunday, but expected to be further north and significantly lower than the recent widespread, heavy falls which caused major flooding on the Tully, Murray and Herbert Rivers.
Queensland Flood Services Manager Victoria Dodds said around half of the catchments in Queensland have been in flood warnings this month meaning conditions are primed for renewed river level rises and flooding.
The Bureau has issued a Flood Watch today for coastal catchments from Ingham to Daintree.
"The heaviest falls will be further north and significantly lower than that of last week. As a result we're only anticipating river level rises above the minor flood level, but conditions can change so it's important to stay tuned for warnings," said Ms Dodds.
From Sunday to Tuesday, daily rainfall rates in the 50 to 100mm range are expected north of Ingham, with isolated heavier falls up to 150-200mm possible with thunderstorm activity.
"In the Gulf, major flood levels have peaked at Walkers Bend on the Flinders River and are easing. While flood levels are generally easing, we are still in the wet season and the northern monsoon is in a more active phase."
The Bureau is continually monitoring activity on the monsoon trough for any chance of cyclone development. Three-day cyclone outlooks are updated daily for the Gulf and Coral Sea, and more frequently if a cyclone develops.
Download the mobile app for current weather and warnings and follow us on Twitter.
The Bureau's website remains the most comprehensive source of weather information.