WEATHER UPDATE: Third update on tropical cyclone Marcus in NT
16/03/2018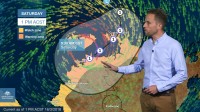 SENIOR FORECASTER, ADAM MORGAN: Hello again. Category 1 tropical cyclone Marcus has formed north of the Tiwi Islands, and Darwin and areas of the northwest Top End coast are now under cyclone warning.
Darwinites can expect a wet and windy period from late Friday evening and throughout Saturday. After so much rain already this wet season, further rain and gale force winds with gusts in the range 95 to 125 km/h – similar to those seen in the last monsoon burst in February – may bring down trees, disrupt power, communications and impact road access.
At 11 am central time, Marcus was located around 250km to the northeast of the Tiwi Islands. The system intensified overnight with an increase in thunderstorm activity, and we can see the circulation developing around the cyclone centre.
The cyclone warning area covers the coastal stretch of the northwest Top End from Daly River Mouth to Maningrida, and the watch area extends west into Western Australia towards Mitchell Plateau.
Marcus is forecast to cross the Cobourg Peninsula today, and move southwest into the Van Diemen Gulf and towards Darwin. We expect weather conditions to deteriorate from Friday evening in Darwin, with the wind and rain continuing through Saturday as Marcus passes close by.
The cyclone is unlikely to spend long enough over water though to develop into a severe tropical cyclone, so at this stage we expect Marcus to remain a category 1 intensity by Saturday afternoon.
It's likely to be a short and sharp burst of severe weather, easing by Sunday as the cyclone to moves West over the Joseph Bonaparte Gulf in towards the Kimberley coast.
There are still other forecast tracks possible though, for cyclone Marcus, and they are indicated by the grey shaded area on the map.
Crossing the coast further to the east on Cobourg Peninsula would mean that the cyclone would spend longer over land and then weaken before approaching Darwin. In this scenario, gales would be less likely to develop for the city and rural areas, but we'd still see some heavy rain and damaging wind gusts.
In Western Australia, although it can't be ruled out, unlike previous cyclones this season Marcus looks more likely to affect the northern Kimberley coast rather than Broome and the west Kimberley.
There's also a Flood Watch in place for the North West Coastal Rivers in the territory due to the heavy rainfall expected from Marcus. Daily rainfall totals of up to 200 mm are possible, including for Darwin on Saturday.
We're already seeing this sort of heavy rain along the north coast, with Warruwi recording 158 mm to 9 am this morning.
As with many cyclone situations, weather can change very quickly and we'll keep you updated with the latest information. Make sure you have the latest forecasts and warnings by going to the Bureau's website or app.
And follow us on Twitter for updates direct from Bureau's forecasters and please, follow all advice from emergency services.