WEATHER UPDATE: Very heavy rainfall for central parts of NSW coast
20/03/2018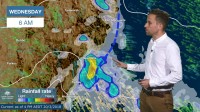 SENIOR FORECASTER, ADAM MORGAN: Hello again.
The Bureau is forecasting very heavy rain for central parts of the New South Wales coast over the next few days, with dangerous conditions expected to develop.
There's a Severe Weather Warning in place for the Hunter and southern Mid North Coast regions of NSW, for heavy rain that may lead to flash flooding. This area includes the Newcastle, Central Coast and Port Stephens areas.
Intense rainfall could be enough to cause flooding of roads and hazardous driving conditions, and create dangerous conditions around storm water drains.
A Flood Watch is also in place for several catchments throughout the region. But thankfully, recent dry weather means that catchments will absorb much of the rainfall and any riverine flooding should only be around the minor level.
At the same time gusty easterly winds from the Tasman will whip up seas, so we've got a hazardous surf warning in place for the Macquarie and Hunter coasts as well.
The severe weather is all thanks to a developing low pressure trough along the central coast.
The trough's currently sandwiched between a high to the east and west, with the air flowing from the two systems converging around the trough.
Rain will begin late on Tuesday, and increase to a widespread band of steady rain along the coast stretching from Wollongong to Coffs Harbour during Wednesday and Thursday.
We're particularly concerned about the region in the Severe Weather Warning area around Newcastle and the Central Coast, where we could see some very intense pockets of very heavy rain from Wednesday morning, leading to those dangerous conditions.
Daily rainfall totals along the Hunter Coast of between 100 and 200 mm are forecast, but some areas could see more – particularly on Wednesday.
Final rainfall totals though will vary from place to place depending on exactly the movement of the trough in relation to the coast and ranges, but we do expect that many places will to get their normal monthly rainfall for March in just a couple of days.
So with forecasts and warnings updated regularly, make sure you have the latest by going to our website or app, and follow us on Twitter.
Please stay safe on the roads and follow the advice of emergency services.