Severe weather warning for NSW: Hunter & Lower Mid North Coast
21/03/2018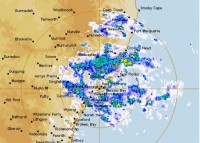 The Hunter and Lower Mid North Coast regions of New South Wales remain covered by a severe weather warning for heavy rainfall following downpours in some pockets of NSW earlier today.
A coastal trough has developed along central parts of the New South Wales coast, cradled between two strong high pressure systems. The air coming from these three systems is converging on central parts of the NSW coast.
Widespread steady rain will continue to fall today and Thursday over a broad area stretching from Jervis Bay to Coffs Harbour, and over to the eastern ranges.
There will be bursts of very intense rain during this period, in particular from thunderstorms from the Central Coast north to the Kempsey area and west to the eastern ranges. Forecasters are closely monitoring the region near Newcastle, where radar is picking up some very heavy rain along a shear line. Rainfall rates will vary, depending on thunderstorm activity, local topography and the position of the coastal trough in relation to these.
In the 24 hour period to 9am today Upper Chichester recorded 78mm of rain and Mount Barrington saw 70mm, with most of this falling within two to three hours. Dungog's initial reading of 114mm in an hour has been revised to 68mm between 4.10am and 5.10am following quality checks of the data. Many locations may see close to their monthly March rainfall fall this week.
The Flood Watch remains current for the NSW Central Coast, Newcastle, Lower Hunter and Manning Rivers. Due to a period of relatively dry weather and resultant dry catchments, only minor flooding is expected over most of riverine systems in this region. Heavier falls could result in road flooding, especially in urban areas and flood prone/low lying areas. Dangerous driving conditions are likely.
This system will also produce strong and gusty easterly winds near the coast, and up to gale force over central NSW coastal areas. These winds will whip up the seas. Hazardous surf is expected along the Hunter and Lower Mid North Coast from this afternoon.
Weather warnings are being updated regularly as forecasters track this system. For details go to: http://www.bom.gov.au/nsw/warnings/
An Audio News Release featuring forecaster, Rose Barr is available for download here.