WEATHER UPDATE: Possible tropical cyclone near the Top End of the NT
21/03/2018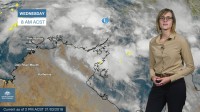 METEOROLOGIST, GRACE LEGGE: Hello from the Bureau, here with an update on the development of a possible Tropical Cyclone near the northwest Top End.
A low is currently north of Nhulunbuy and is expected to develop into a tropical cyclone sometime on Friday. The low is currently moving in a westward direction but will likely turn south east tomorrow.
A Tropical Cyclone watch has been issued for coastal communities on the north east Top End, including Nhulunbuy, Yirrkala and Elcho Island, this is due to the possibility of gale force winds with wind gusts greater than 90km/hr through the area from Friday.
The system is then forecast to head into the Gulf of Carpentaria, conditions through the area are favourable for development and the system is likely to intensify as it remains over water. The grey shaded area shows the range of directions the system may track
Tropical Cyclones through the Gulf are notoriously erratic in their movement but we will be keeping a close eye on the system as it does develop and updating the Tropical Cyclone Watch with the latest information.
While conditions are becoming wet and windy near the system, western Top End will be expecting normal wet season conditions through the week and into the weekend.
With the system in the area please follow the advice of emergency services and stay up to date with the latest forecasts and warnings on our website, the BoM Weather App and you can follow us on twitter.