WEATHER UPDATE: 2nd update on potential tropical cyclone, Gulf of Carpentaria
22/03/2018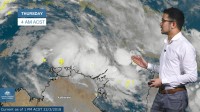 METEOROLOGIST, JONATHAN HOW: Hello from the Bureau with an update on the potential tropical cyclone in the Gulf of Carpentaria.
A tropical low that's currently centred off the north-eastern Top End has deepened overnight, and places like Nhulunbuy have already seen large rainfall totals.
This low will continue to deepen as it moves south-east and is likely to develop into a tropical cyclone by Friday afternoon, and would be named Tropical Cyclone Nora.
As such, a tropical cyclone watch is current for north-eastern parts of the Top End from Milingimbi to Cape Shield, as well as along the Peninsula and Gulf Country Coasts from Thursday Island to Gilbert River Mouth. This means that gale force winds in excess of 90km/h may develop within the next 24-48 hrs.
Some of these areas may be moved into a tropical cyclone warning later on Thursday meaning gales in the next 24hrs, so remember stay up to date if you're in the area.
Conditions are favourable for the system to develop as it moves through the warm Gulf Waters, and we could see it reach Severe Category 3 over the weekend.
Tropical Cyclones in the Gulf are notorious for their erratic movement and as this animation shows, there are a number of possible paths that it could take. Forecasters at the Bureau will closely monitor this, and warnings will be updated accordingly.
Heavy rainfall is anticipated over the coming days right around the Gulf, and even along the Tropical North Queensland coast as the system drags in moist air from the Coral Sea. Towns like Burketown and Normanton in the Gulf Country have already seen major flooding this month, and it's possible that further rainfall could exacerbate conditions and prolong the isolation of these communities by floodwaters. Further west though, and places like Darwin can expect normal wet season conditions this week.
So if you're in the Gulf Region, it's time to activate your tropical cyclone plan. Always follow the advice of emergency services, and you can stay up to date with the latest warnings on the Bureau website, the Bureau app or via twitter.