AUDIO NEWS RELEASE: Victoria's weekend weather
23/03/2018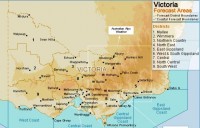 Senior Meteorologist Michael Efron from the Bureau of Meteorology discusses Victoria's forecast for the weekend ahead.
Michael is covering the following main weather points current at 10.30am 23/03/2018
Get your washing dry today!
Rain tomorrow – where and how much, how significant
Windy on Sunday with the potential for more rain
Likely conditions for the grand Prix
Potential for snow early Monday morning
Go to our Downloads page for audio of this interview and a picture of Michael for your use.