Tropical Cyclone Nora forecast to strengthen to severe category cyclone strength
23/03/2018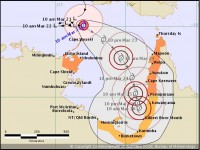 Overnight conditions in the Arafura Sea were optimal for cyclone development and the tropical low intensified to Category 1 strength around 4am this morning.
Conditions remain favourable for Cyclone Nora to further intensify to severe Category 3 strength today or tomorrow as it tracks in a south-easterly direction.
Queensland State Manager Bruce Gunn said the immediate impacts are gale force winds for the warning areas and possible coastal inundation of low-lying areas.
Cyclone Warnings are current for the Northern Territory's northeast coast and Cape York Peninsula's northwest coast.
"While cyclones in the Gulf can be more unpredictable, the forecast is firming up for Cyclone Nora to approach the south-eastern Gulf coast, before turning back towards the Northern Territory border," said Mr Gunn.
"As Cyclone Nora moves closer to the eastern Gulf coast, abnormally high tides between the Torres Strait and Karumba and large waves on the coast are possible.
"There is also the potential for very heavy rainfall and further flooding of catchments in the Gulf and east coast north of Townsville as the cyclone's influence broadens, drawing in moisture from surrounding coastal waters."
Flood Watches are current for the east coast north of Townsville, Cape York Peninsula and the Gulf Rivers extending west to the Northern Territory border.
Many catchments are already saturated from recent flooding, and renewed river level rises and isolation due to flood waters are a reality affected communities will need to prepare for again.
Stay up to date with the latest official warnings from the Bureau of Meteorology and follow the advice of local emergency services.
QFES is urging people in the affected area to finalise their preparation for the cyclone impacts.
Check your emergency kit and make sure it's stocked with essential items including food, water, dry clothes, medications, first aid supplies, important documents, valuables, a battery-powered or wind up radio and sleeping gear.
Get your property ready by securing large outdoor items like swing sets and trampolines. Smaller items including outdoor tables and chairs, barbeques and toys should be brought inside if possible.
If you live in areas likely to be impacted by flooding, elevate belongings.
Tape the inside of your windows in a criss-cross fashion using strong packing tape.
Withdraw enough cash to cover essential items such as food, water or petrol.
Ensure you have enough water stored in bottles, buckets or your bath in case water becomes restricted.
Charge your mobile phones.
Discuss your emergency plans with your family and friends. Identify a safe place to shelter when the cyclone hits, and know where you will go and what you will take if you need to evacuate.
Consider what you will do to keep your pets safe. Find a place they can shelter, and have food and water available.
Cyclone warnings and further information can be found at: www.bom.gov.au/cyclone/
Download the BOM weather app for current forecasts and warnings and follow us on Twitter @BOM_NT and BOM_Qld.
The Bureau's website remains the most comprehensive source of weather information.