Tropical Cyclone Nora update
23/03/2018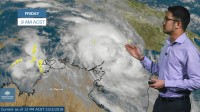 METEROLOGIST, JONATHAN HOW: Hello from the Bureau, where tropical cyclone Nora has been named off the north-eastern Top End.
Nora is currently a Category Two system located about 250km north of Nhulunbuy and continues to rapidly intensify as it moves towards the south-east.
A Tropical Cyclone Warning is current for parts of the Northern Territory between Elcho Island and Cape Shield, and also parts of Queensland's Peninsula Coast from Thursday Island to Pormpuraaw. Warning areas may see heavy rain and gale force winds of up to 110km/h develop within the next 24 hrs, although Top End communities may start to see conditions ease early tomorrow as the system moves away.
A tropical cyclone watch extends from Pormpuraaw to the Northern Territory/Queensland border for gales within 48 hrs, and parts of the eastern Gulf coast may also experience abnormally high tides and the inundation of low-lying areas.
Conditions are ideal for further development, and Nora's likely to reach Severe Category Three early Saturday meaning very destructive gusts of greater than 170km/h, before continuing along the coast.
Tropical Cyclones in the Gulf of Carpentaria can be difficult to forecast due to their erratic movement and so there is a chance that Nora takes a slightly different path than shown here. Forecasters will continue to monitor the situation and update warnings accordingly.
Heavy rainfall will be a major concern for northern Queensland over the coming days, including along the Tropical North Queensland Coast as Nora draws in moisture from the Coral Sea. Daily rainfall totals of 100-200mm are expected, and Flood Watches have already been issued for most of far north Queensland, which may prolong the isolation of Gulf Country communities such as Burketown and Normanton.
So if you're in the Gulf Region or Far North Queensland, it's time to activate your tropical cyclone plan, and pay attention to any warnings. Follow the advice of your local emergency services, and you can stay up to date with the latest warnings on the Bureau website, the Bureau app, or via twitter.