WEATHER UPDATE: Rain and flooding in Tropical North Queensland
27/03/2018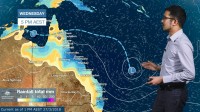 METEOROLOGIST, JONATHAN HOW: Hello from the Bureau, with an update on the torrential rain and flooding in Tropical North Queensland over the last few days, and particularly the last 24 hrs around Cairns.
To 9am this morning, we've seen widespread daily falls of 100-400mm along the coastal strip from Cairns to Townsville. Exceptional totals have been recorded this week, including at Bulgun Creek, Port Douglas and Tully.
And all of this rain has seen many locations exceed or even double their March average rainfall.
Moderate to major flood warnings are current for various catchments near Cairns including the Barron River which is seeing its highest levels in 18 years. There is a severe weather warning for heavy rain and damaging winds for parts of the North Tropical Coast, Herbert and Lower Burdekin and Northern Goldfields Districts.
The rain is a result of Ex-Tropical Cyclone Nora, which currently lies over the Cape York Peninsula, and connects to this monsoon trough towards the east, bringing very moist air from the Coral Sea.
For the remainder of Tuesday and into Wednesday, further falls of 50-100mm and isolated falls in excess of 200mm can be expected, but conditions should ease by Thursday as ex-tropical cyclone Nora begins to move away and weakens.
From there, all eyes will be on ex-Tropical Cyclone Iris in the Coral Sea, which formed near Vanuatu last Saturday. This system is now a tropical low and will begin to move towards the Queensland coast over the coming days. Wind and swell pick up from Wednesday evening from the NSW border to the Capricornia coast, and warnings will be issued.
Beyond Thursday, Ex-Tropical Cyclone Iris is likely to move north-west but remain offshore. There is uncertainty as to how this tropical low will develop, but we could see heavy rainfall and flooding once again about the north east tropical coast from Sunday and into next week, and this is something that forecasters will monitor closely.
So if you're living or traveling along the Queensland coast this week or the Easter long weekend, please stay up to date with the latest warnings, and always follow the advice of the Queensland Fire and Emergency Services. You can check these warnings on the Bureau website, Bureau app, or via twitter.