One year since Cyclone Debbie made landfall near Airlie Beach
28/03/2018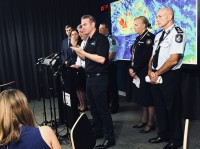 It has been one year since Severe Tropical Cyclone Debbie made landfall on the north Queensland coast near Airlie Beach, passing over the Whitsunday Islands as a large and powerful Category 4 strength cyclone.
A peak wind gust of 263km/h was recorded at Hamilton Island as Debbie approached the coast during the morning of 28 March, which was the highest gust recorded in Queensland.
Riverine and flash-flooding affected catchments spanning from Mackay to northern New South Wales, where tens of thousands of people were evacuated in the Lismore and Murwillumbah areas. Record flooding occurred on the Kolan, Burnett, Brisbane, Logan, Albert, Burdekin, Condamine-Balonne and Tweed Rivers. Major flooding also occurred on the Fitzroy River at Rockhampton which peaked at 8.9m on Friday (7 April 2017), almost 10 days after the cyclone made landfall.
The impacts associated with Debbie extended across the Tasman as far as New Zealand, where flooding and landslides occurred.
Twelve months on from Debbie, the Queensland Reconstruction Authority estimates damage to public infrastructure is in the order of more than $650 million, with a $450 million impact to agriculture and over $150 million in losses to the tourism industry. At more than $1.7 billion in insurance claims, the Insurance Council of Australia has described Debbie as the second most financially damaging storm in the nation's history, second only to Cyclone Tracy in 1974.
The Tropical Cyclone Debbie Technical Report is available for download from the Bureau's website and includes reanalysis of Debbie's intensity; after crossing the Whitsunday islands Debbie weakened slightly to a high-end Category 3 cyclone at landfall on the mainland coast.
The report also includes a summary of official rainfall, wind, pressure, tide, wave and river level observations gathered through the event from Queensland and New South Wales.
A video to coincide with the anniversary has been released through YouTube and we encourage you to share this in any media coverage with attribution to the Bureau of Meteorology.