Weather Update: Hazardous coastal conditions, developing heavy rainfall, flooding risk for Qld
29/03/2018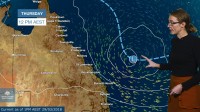 METEOROLOGIST, SARAH FITTON: Hello from the Bureau with an update on the hazardous coastal conditions and developing heavy rainfall and flooding risk for Queensland this long weekend.
Heavy rainfall eased on the North Tropical Coast yesterday as the remnants of ex tropical cyclone Nora continue to weaken.
River levels are generally falling for now however flooding warnings remain in place for multiple catchments.
Our attention now turns to ex-tropical cyclone Iris and the severe weather it is expected to bring to parts of Queensland this weekend and into next week.

This strong pressure gradient on the south side of the low is currently producing strong winds and a sustained easterly swell over the subtropical coast, including the Byron coast of NSW.

If you're thinking of heading to the beach or out on the water this long weekend, please be aware that surf and swell conditions could be hazardous for coastal activities including rock fishing, boating, and swimming.

Ex-tropical cyclone Iris should then move northwest during Friday and Saturday, with a slight risk of redevelopment into a tropical cyclone, but little significant rainfall expected on these days.

During Sunday and Monday there is growing uncertainty in the movement and intensity of the system but increasing potential for heavy rain.

The north tropical coast could experience another episode of heavy rainfall from late Sunday or Monday into mid next week. Catchments are very saturated, and won't require much additional rainfall for flash-flooding and renewed river rises.

However if the low stays a little further offshore then the far north could remain mostly clear. And if the low drifts further south the bulk of the rain could fall over the central coast instead.

With this uncertainty and a lot of travel expected in this busy holiday period, we've issued a Flood Watch this afternoon for coastal catchments from Cairns to just north of Burnett Heads. It's an early heads up to keep an eye on forecasts and warnings for your area as the long weekend unfolds.

You can use our website or BoM weather app to stay up to date and you can also follow tweets directly from our meteorologists on Twitter. Please stay safe, follow all advice from Emergency Services, and have a great weekend.