Brief reprieve from heavy rainfall, Flood Watch issued for early next week
29/03/2018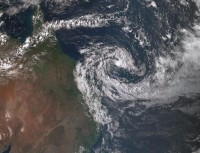 From the beginning of March Queensland has been impacted by a series of heavy rainfall events which have resulted in widespread flooding for much of the state.
Recent major flooding around the far north tropical coast and Gulf was generated during the passage of severe tropical cyclone Nora, with heavy falls continuing on the tropical coast for days in its wake.
Queensland Flood Services Manager Victoria Dodds said there was a chance of storms over the Peninsula, but fortunately coastal catchments around Cairns and Townsville will finally see a reprieve in the heavy rainfall of the past week.
"Flooding on the Murray, Tully and Herbert Rivers is easing and further heavy rainfall is not expected until early next week," Ms Dodds said.
"Over the weekend all eyes will be on ex-tropical cyclone Iris, which is currently generating hazardous surf and strong winds for Queensland's Capricornia southeast coastal waters. Iris is currently over the Coral Sea where it has a low chance of redeveloping into a tropical cyclone," she said.
"The most likely scenario is that it will remain a low-pressure system, generating heavy rainfall and strong winds for Queensland's tropical and central coasts from Monday, but it is too early to say exactly which areas will be directly impacted."
The Bureau has issued a Flood Watch today for coastal catchments between Cairns and Burnett Heads, north of Bundaberg.
The Bureau is continually monitoring river conditions with flood warnings in place for a number of catchments.
Download the mobile app for current weather and Warnings and follow us on Twitter.
The Bureau's website remains the most comprehensive source of weather information.
A Severe Weather video has been released through our YouTube channel.