WEATHER UPDATE: Rain and Flood Watch for Queensland coast
01/04/2018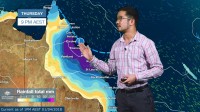 METEOROLOGIST, JONATHAN HOW: Hello from the Bureau, with an update on conditions for Queensland due to ex Tropical Cyclone Iris.

Over the past 24hrs, ex-Tropical Cyclone Iris has continued moving north into warmer waters and we've seen activity start to increase, which is generally a sign of a strengthening system. As such, the likelihood of Iris reforming into a Tropical Cyclone is now moderate over the coming days.

As of Sunday though, it is still a tropical low and will start moving south to south-west towards land. Showers and rain will start to pick up by the evening, especially over the central coast between Townsville and Rockhampton. Damaging winds may also develop, and a severe weather warning will be issued for this later on Sunday.

The rain will intensify from Monday, and may extend into the north tropical coast, including Cairns. At this stage, daily totals of 100-200mm, and isolated totals in excess of 300mm can be expected in until mid week, with the heaviest falls likely to come on Tuesday and into Wednesday.

Flood watches have already been issued for catchments between Cairns and Rockhampton as a heads up given last week's torrential rain and flooding. It won't take much to see widespread river rises, and a return to major flooding is possible in the North Tropical Coast catchments.

There is still some uncertainty as how ex-Tropical Cyclone Iris will move, and therefore where the heaviest rain will fall and how much. If the low remains offshore we could see the heaviest rain and strongest winds confined to the coastal strip, but if the low moves closer to or even crosses the coast, adverse conditions could extend further inland. Severe weather is still likely whether the system develops into a tropical cyclone or not, and forecasters will monitor the situation as it develops.

So if you live or are holidaying along the Queensland coast this week, it's important to stay up to date with the latest forecasts and warnings, which you can do via the bureau website, app or twitter. Always follow the advice of your local emergency services, stay safe and enjoy the rest of the long weekend.