WEATHER UPDATE: Tropical Cyclone Iris
03/04/2018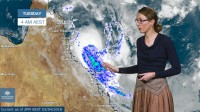 METEOROLOGIST, SARAH FITTON: Hello from the Bureau with an update on Tropical Cyclone Iris. The category two system continues to intensify off the Queensland coast. Rain bands wrapping around the south side of the system have already produced significant rainfall between Mackay and Bowen; Mount William received 170mm in the 24 hours to 9am this morning. Locations in the Coral Sea have recorded periods of sustained gales and Flinders Reef recorded a 126km/h wind gust this morning.
Tropical cyclone Iris should continue moving southeast, parallel to the Queensland coast, for the next two days and may reach Severe category 3 intensity tomorrow. On Thursday the cyclone should become slow moving and begin to weaken. It may reverse direction and adopt a track to the northwest overnight Thursday or on Friday, but there is high uncertainty in its longer term movement.
In the short to medium term the cyclone is not expected to cross the Queensland coast but may still lie close enough to the coast to produce significant impacts.
A Tropical Cyclone Warning covers locations between Ayr and Sarina, including Mackay and the Whitsunday Islands and gales may develop through these areas this evening or early Wednesday morning. Destructive winds are occurring close to the core of the cyclone and could impact the coastal fringe and islands between Bowen and Mackay from early Wednesday morning if the cyclone were to take a more southerly track.
A Tropical Cyclone Watch covers locations from Sarina to St Lawrence and gales may extend to these locations later on Wednesday.
Iris is expected to bring heavy rainfall to coastal catchments this week, particularly on the southern side of the cyclone in this onshore flow. Heavy rainfall could lead to local flooding and river rises from Wednesday. It could result in disruption to transport and isolation of communities, particularly if the system lingers close to the coast for an extended period. A Flood Watch covers coastal catchments between Ayr and St Lawrence.