AUDIO NEWS RELEASE: Dangerous Fire Weather Conditions across SA
11/04/2018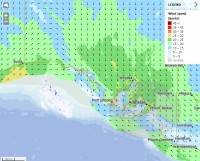 The Bureau of Meteorology has issued an Audio News Release with Supervising Meteorologist, Paul Lainio, about today's dangerous fire weather conditions across South Australia.
Paul also covers the forecast for the latter part of the week.
Click here to download this interview.
Feel free to use excerpts of the file for news grabs or to quote.
To keep up-to-date on warnings, please check regularly http://www.bom.gov.au/sa/warnings/.
You can also follow us on Twitter @BOM_SA or download the Bureau's weather app for the latest weather forecasts, observations and warnings.
Content includes:
0.13 Meteorological influencers impacting weather
0.40 What does that mean for fire weather?
1.12 Where are the priorities for our severe weather team?
1.36 Forecast for Thursday
2.30 Friday's vigorous front
3.25 Cooler temps for latter part of week
3.47 Current warnings