WEATHER UPDATE: Anzac Day forecast
24/04/2018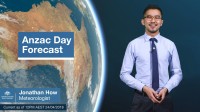 METEOROLOGIST, JONATHAN HOW: Hello from the Bureau, with your Anzac Day forecast.
A surface trough and embedded low pressure system in the Tasman Sea will bring showers and thunderstorms to parts of north-eastern New South Wales and south-east Queensland, with the heaviest falls along the coast. An upper level disturbance will also trigger showers and storms within a thick cloud band which stretches from the interior of Western Australia and towards the south-east, but it will be fairly dry.
A few showers for remaining parts of the south coast and we could see areas of morning fog, particularly in western Victoria and south-west WA, but it will be drier across the tropics. Daytime temperatures will be close to the April average across much of the country, except through inland NSW, with warmer conditions continuing there.
And looking at conditions for the dawn service:
In Sydney it will be mostly clear morning apart from possible fog in the west in the morning, and around 16 degrees for the Dawn Service. We could see showers and a possible storm building from early afternoon.
In Canberra, there will be some cloud around and it will be cool, around 7 degrees.
In Melbourne, we're expecting 15 degrees, and it will be cloudy with chance of some drizzle but clearing to a partly cloudy afternoon.
12 degrees and partly cloudy in Hobart.
And 14 degrees with a slight chance of a morning shower in Adelaide but then a mostly fine day.
For Brisbane, it will be around 17 degrees in the morning, and a slight chance of a shower, mainly to the south of the city.
Across the Top End and in Darwin, around 24 degrees in the morning and it will be mostly dry, except for the chance of a morning shower along the coast or offshore.
And finally in Perth, it will be cool and 11 degrees in the morning, but clear.
So that's your forecast for ANZAC Day. Official forecasts are updated twice daily, so check in for updates on the Bureau website, app or you can follow us via twitter.